"We're Finally Playing Survivor!" is the second episode of Tumblr Survivor: Olympics.
Story
Previously on Survivor: Argos didn't seem to mourn Ryan at all after their unanimous vote at tribal council, and were prepared to bring home the gold in the next Arena challenge. Unfortunately for MJ his confidence was shook the moment the arena competitors were revealed. Mario, Ash, and Laura had all come into the game with a reputation of challenge dominance. Mario, living up to his reputation, smoked all of his competitors (without the help of any advantage) and brought the gold home to Megara.
After returning to Corinth with only a bronze medal, Laura proclaimed she hated Mario and didn't take the defeat well. Megara, on the other hand, celebrated that night and seemed to exist in perfect harmony all working well as a team going into the discus immunity challenge.
Sparta was also in pretty good spirits knowing that they would have days off from competing being ineligible for the arena, and were also immune from any challenge decreases. Despite having quite the social life outside of the game Casey seemed to be in the best position within her "alliance" and with Nathan as well as Paige who had a pretty good relationship with everyone. Emma, on the other hand, who quickly sat out of the challenge knowing she couldn't contribute much to her tribe was fading more and more into the outs.
With a few score decreases left over from the previous immunity challenge players on different tribes debated between using them on the returnees in argos, or Athens, which returned from the arena challenge with nothing. Deciding to kick them while they are down they threw what they had at Athens giving them an embarrassing defeat in the immunity challenge. Despite having the highest discus score, Ash wasn't forgiven for returning from the arena with no medals. He also had probably the worst social game of a mostly inactive tribe having never even talked to Jeremiah. Sensing this he quickly tried to throw Brittany under the bus for being weak in challenges, and though Nic humored him by saying he agreed Ash would pay for his lack of communication with a unanimous vote out from his tribe.
23 are left, who will be voted off tonight?
Challenges
Arena
Bueno Rufus - It's called fast food for a reason!  This is a flash game that relies on reflex as you control the naked mole rat from the Kim Possible series to fill fast food orders as they show up on the screen.  The game ends if the player is unable to get a certain quota filled on certain levels.  The longer a player can go with getting every correct they will gain extra points for maintaining a streak.
Arena Challenge: Bueno Rufus
Gold Medal
Silver Medal
Bronze Medal
Nothing

Mario
5235

MJ
4295

Laura
3825

Ash
2178
Immunity
Discus - The discus throw is a track and field event in which an athlete throws a heavy disc - called a discus - in an attempt to mark a farther distance than his or her competitors.  This is a flash game that relies on players to quickly hit keys before releasing their discus to get a high score.

Winner (according to finish): Argos, Megara, Corinth & Sparta
Immunity Challenge: Discus
Placement
Players
Sitting Out
1st

Alf, Jules, MJ & Will
2nd

Grace, Mario, Pat & Shannon

Sami
3rd

Branden, Laura, Miranda & Owen

Hunter
4th

Casey, Hanne, Nathan & Paige

Emma
5th

Ash, Brittany, Jeremiah & Logan

Nic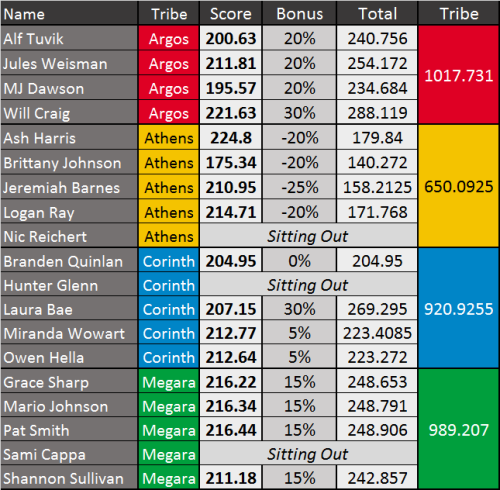 Tribal Council
Tribal Council #2: Athens Tribe
Voted
Against
Voter

Ash Harris (4 votes)


Brittany, Jeremiah, Logan & Nic

Brittany Johnson (1 vote)

Ash
VOTED OFF:

Ash Harris
Voting Confessionals
"

I didn't get to know you, nor did I feel like I could trust you. Hopefully there's no hard feelings.

"

–Logan
"

This was basically the vote consensus tonight. It was nice getting to know you!

"

–Brittany
"

I messaged you and you never responded, either I am leaving or you just don't know how to respond to peoples messages either way I am positive its you tonight.

"

–Junior
Still in the Running
Argos
Athens

Alf

Jules

MJ

Ryan

Will

Ash

Brittany

Jeremiah

Logan

Nic
Corinth
Megara
Sparta

Branden

Hunter

Laura

Miranda

Owen

Grace

Mario

Pat

Sami

Shannon

Casey

Emma

Hanne

Nathan

Paige
Trivia