Olympics Episode 6 is the sixth episode of Tumblr Survivor: Olympics.
Story
Previously on Survivor: No tears were really shed for Laura as Argos returned to camp after tribal council. Pat claimed the decision was an easy one since Laura had barely talked to him, but he was beginning to wonder if he made the right choice as he had suspicions that Jeremiah and Mario were growing close and forming an alliance. He grew concerned that his closeness with Shannon was growing too obvious and there could possibly be a plot to break them up.
Meanwhile, on the Sparta tribe MJ returned from Germany and didn't understand how to deal with his tribe. Bran and Hunter were the only ones on the tribe to be from the same original tribe while he and Nathan had a bond as both friends and returning players. He believed this put Logan in a dangerous position since he still had his gold medal and was in no danger of being voted out, so in essence he had the power to go either way at tribal council. Like the former Corinth members before him MJ also found himself unamused by Bran's antics. Bran had to go into the arena challenge by default and was proud of himself for his meager Dolphin Olympics score that only got his tribe a bronze medal.
Will earned himself a gold medal insuring himself safety, but despite knowledge that he was on the bottom of the original Argos tribe he still kept his loyalty Alf and Jules. With the advantage Megara should have snagged first place in the double tribal council immunity challenge, but due to Jules (once again) not tagging her score Megara found itself going to tribal council. She claimed it was because she wanted to sit out and her tribe wouldn't let her. Owen and Miranda voted her at tribal council, but Owen's vote off was no shock or insult to him as he declared he really wasn't having fun anymore due to the high amount of flash games and returning players.
The Corinth tribal council seemed a lot more clear cut. Original Sparta would vote out one of the newbies, but this decision wasn't easy to Paige as she thought about how far she could get with Casey and Hanne. She became annoyed at the littlest things Casey would do or say while her bond with Nic grew. She finally decided to make the easy move and voted with Hanne and Casey to remove Grace from the game, and Nic followed suite.
17 are left. Who will be voted out tonight?
Challenges
Arena
Dolphin Olympics - a flash game with a time limit that requires players to use the allotted time to make their dolphin jump and/or do enough tricks to become airborne. The higher the dolphin goes and the more flips it's accomplishes the higher the score.
Arena Challenge: Dolphin Olympics
Gold Medal
Silver Medal
Bronze Medal
Nothing

Will
105,467,099

Jeremiah
4,736,453

Branden
4,200,016

Paige
196,181
Immunity
Spear Toss- an addictive spear throwing game. Click your mouse to start running then click again to throw your spear as far as you can. Don't run past the two rocks or your throw won't count! You have 5 chances to throw your spears, so try to throw as far as possible without making any fouls and score high!

Winner (according to finish): Sparta & Argos
Immunity Challenge: Spear Toss
Placement
Players
Sitting Out
1st

Branden, Hunter, Logan & Nathan

MJ
2nd

Jeremiah, Mario, Pat & Shannon
3rd

Casey, Grace, Hanne & Nic

Paige
4th

Alf, Jules, Miranda & Owen

Will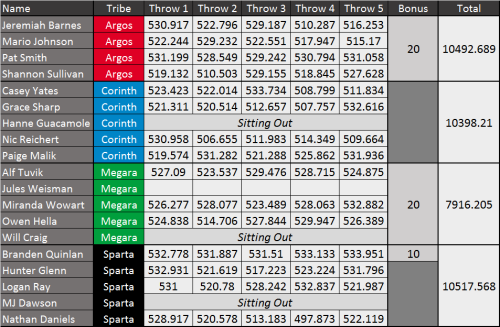 Tribal Council
Tribal Council #7: Megara Tribe
Voted
Against
Voter

Owen Hella (3 votes)
TBA

Jules Weisman (2 votes)
TBA
VOTED OFF:

Owen Hella
Tribal Council #8: Corinth Tribe
Voted
Against
Voter

Grace Sharp (4 votes)


Casey, Hanne, Nic & Paige

Hanne Guacamole (1 vote)

Grace
VOTED OFF:

Grace Sharp
Voting Confessionals
"

I'm sorry about this vote, but I think you know why I'm voting this way and I hope you don't take it personally.

"

–Miranda
"

It's me or you tonight, and I'm not ready for it to be me.

"

–Jules
"

I'm sorry that I have to vote for you under these conditions. You are a really nice guy and could have made it far

"

–Will
"

I'm sorry Owen, you are a really cool guy and I enjoyed talking to you.

"

–Alf
"

It's sad because I feel like we had so many things in common , yet we never talked. Nothing personal Hanne, I just don't want to go home tonight.

"

–Grace
Still in the Running
Argos
Athens

Alf

Jules

MJ

Ryan

Will

Ash

Brittany

Jeremiah

Logan

Nic
Corinth
Megara
Sparta

Branden

Hunter

Laura

Miranda

Owen

Grace

Mario

Pat

Sami

Shannon

Casey

Emma

Hanne

Nathan

Paige