Sadly, Smiling Faces Won't Last Long is the premiere episode of Tumblr Survivor: Egypt.
Story
24 contestants (eight returning players and sixteen newbies) were welcomed to the desert climate of Egypt, Africa. They were separated into three tribes of eight: Khufu, Neferka and Sahure. On Khufu, we saw three strong returning players that were all known for their leadership, drive, and determination, much like the pharaoh after whom their is named. Sahure's returnees were known for their good performances in their past seasons, much like the pharaoh Sahure was known for improving Egypt's overall wealth and happiness during his rule. Finally, Neferka had two returning players that, much like pharaoh Neferka, were often forgotten due to their short time in the game when they previously played.
Before competing in any challenges, all three tribes had to elect a Chief that would serve as the tribe leader. Chiefs got to pick which players competed in certain parts of the immunity challenge while also getting to chose who entered the Idol Tomb. This mysterious tomb was the only way to gain idols - including the mysterious Sapphire Idol that had not been seen in over ten seasons. This tomb also had dangerous items such as automatic self-votes, challenge decreases, and shufflers that randomly switched where everything was, making all previous progress useless. Whoever was chosen to enter the tomb pre-merge also received a decrease to their immunity challenge score
Sahure and Neferka unanimously elected Miranda and Danny to be their Chiefs. Khufu made Tumblr Survivor history by being the first tribe to have a tied vote when electing a Chief: both Teddy and Erin received 3 votes to be Chief. Although neither wanted the position, Teddy was able to convince Erin to take the position. She chose Julian to enter the tomb, Miranda chose Szymon, and Danny chose Lindsay. Lindsay and Julian found nothing however Szymon found a challenge increaser.
Many alliances were formed at the start of the game: The Pizza Monsters (Sam, Julian, Teddy, Hector, Jenny), the Core Four (Jenn, Jenna, Miranda, Szymon), and The Hag Gang (Teddy, Hector, Jenny) just to name a few.
The first immunity challenge was a shock to the contestants when they learned there were multiple parts to every immunity challenge pre-merge. Part One featured a puzzle of the Tumblr Survivor: Egypt logo, Part Two was the flash gamed "Sutek's Tomb", Part Three was Survivor trivia, and Part Four was an endurance challenge.
Neferka and Sahure came out victorious and Khufu was sent to tribal council where they would vote out the first player of the season. The "Pizza Monsters" thought they were sitting comfortable with this vote and they had the majority to get out Erin. However, when tribal council came, Julian and Samantha self-voted when they did not send their vote in on time. This let Erin survive and unfortunately saw little angel Julian the first boot since his self vote gave him the majority. This vote sparked controversy within the community and made the hosts decide to contact those who did not vote an hour before it was due so they knew when their vote had not been received.
Challenges
Challenge: Puzzle, Flash Game, Endurance and Trivia
The hosts revealed to the tribes that almost all pre-merge challenges would be in multiple parts. The sit-out for the first challenge would be safe if their tribe lost. Two tribe members competed in a puzzle, two tribe members competed in a flash game, two tribe members competed in endurance, and one tribe member competed trivia.
Winner: Sahure and Neferka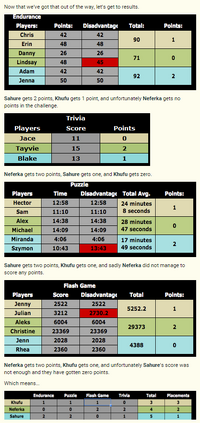 Chiefs Vote
Khufu Chief Vote #1:
Voted
Against
Voter

Erin (3 votes)

Hector, Jenny, Teddy


Teddy (3 votes)

Erin, Jace, Samantha


Jace (2 votes)

Chris, Julian

KHUFU CHIEF #1:

Erin (Teddy gave up Chief)
Sahure Chief Vote #1:
Voted
Against
Voter

Miranda (7 votes)



Adam, Blake, Jenna, Jennifer
Rhea, Szymon, Tyler


Jenn (1 vote)

Miranda

SAHURE CHIEF #1:

Miranda
Neferka Chief Vote #1:
Voted
Against
Voter

Danny (5 votes)



Aleks, Christine, Janaya, Lindsay,
Michael


Alex (1 vote)

Danny

Lindsay (1 vote)

Tayvie
NEFERKA CHIEF #1:



Danny
Idol Tomb
Idol Tomb

Julian

Lindsay

Szymon
Tribal Council
Tribal Council #1: Khufu Tribe
Voted
Against
Voter

Julian (4 votes)

Chris, Erin, Jace, Julian


Erin (3 votes)

Hector, Jenny, Teddy


Sam (1 vote)

Sam

VOTED OFF



Julian
Voting Confessionals
"

I feel like it is either you or me tonight, so obviously I have to vote for you. I wish we talked more in this game, but it is a little too late now. See ya!

"

–Jace
"

Erin. Sorry President Erin Snow, you have just been mockingjay'd.

"

–Hector
"

sorry I just don't trust you

"

–Jenny
"

So much for your happy ending.

"

–Teddy
"

Julian. I've gotten to know you the least out of everyone. I do feel bad, but it's part of the game. Nothing personal.

"

–Chris